Simple Cheese – Garlic Spread
Preparation time: 15 minutes Servings: around 250 grams / 0.5 pound
Cook time: N/A minutes Total Time: 15 minutes
Difficulty: very easy
Ingredients:
100 grams / 3.5 oz softly grated cheese (like Mozzarella, Cheddar, Emmenthal, etc.)
4 pieces full fat spread triangles cheese (around 65 grams / 2.3 oz)
4 tablespoons Mayonnaise
6 garlic cloves
10 whole black peppercorns
for topping (optional): herbs, spring onions, ham, etc.
Recommended tools:
Garlic press crusher, Herb crusher, Hand mixer
Instructions:
Today's recipe is ridiculously simple, and it has been made just from 5 ingredients. For better processing' I recommend using a hand mixer. It makes your Cheese-Garlic spread softer than if you use only a wooden spoon.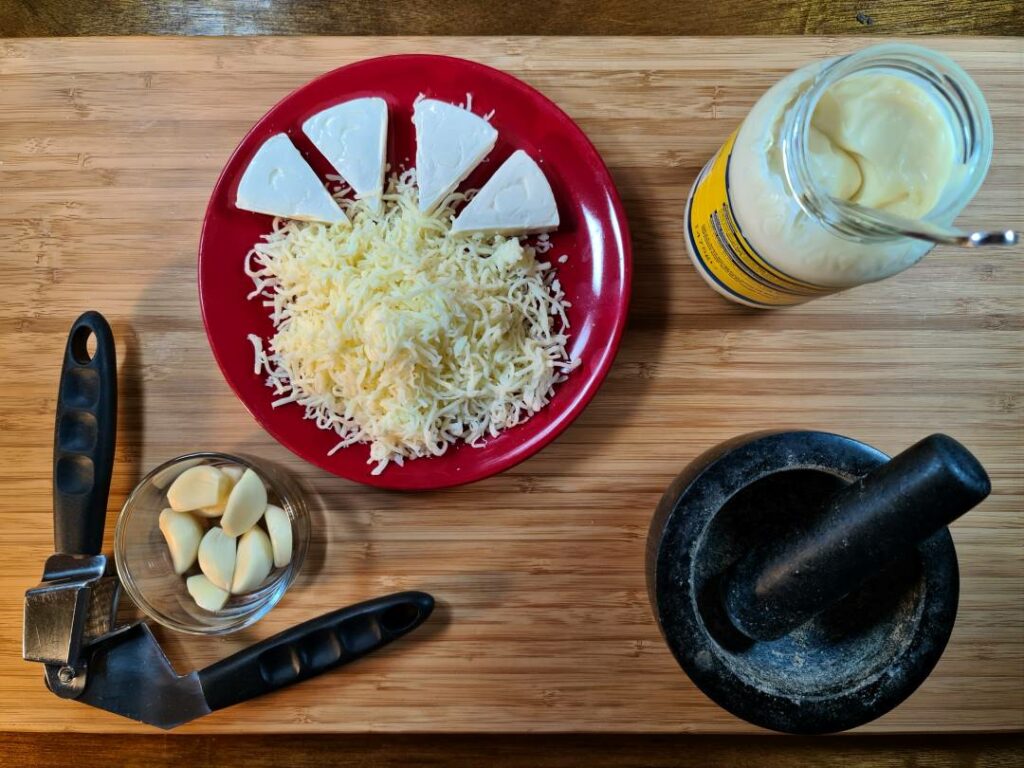 First, put all ingredients into a bowl. Don't forget to crush the garlic cloves with a press crusher and it means the same for a black peppercorn. If you don't have one, use a knife and cut them into small pieces. It is still ok but if you use this less effective way, add more garlic then.
Then stir or mix with the hand mixer everything together till you make a nice soft mishmash. For better taste leave it to mature in the fridge overnight.
It is perfect to serve with a baguette, sprinkled with chopped herbs like chive, parsley, or spring onion but you can eat it with ham too.
If you like the lighter taste you can add more mayonnaise, if cheese one you can skip it and replace it with a spread cheese. It is just up to you.
Ok, that is all for today. Be patient with me and if you don't like garlic (because you are a vampire) you can try one of another spread recipes like Tuna Sweetcorn Spread or the Yeast Spread.
Have a nice day and see you soon with my another recipe.
---
---