Czech Curd Vanilla Cream (Pribinacek)
Pribináček
Ingredients
500g/0.6lb Curd Cheese (I prefer a full fat version)
280ml/0.5pint (It can be little less) Double Cream (for whipping)
1 egg yolk
6 tablespoons (cca. 85g/3oz) Icing Sugar (up to your taste)
7 tablespoons milk (as requied)
1 tablespoon Vanilla Sugar
1 teaspoon Cacao Powder (If you like the taste of cacao. )
Instructions
Get a bigger bowl. Divide the curd cheese into small pieces and put it into the bowl.
Add 1 egg yolk for better taste (But if you don´t like it,  it is not necessary.), icing sugar, milk and a tablespoon of Vanilla Sugar.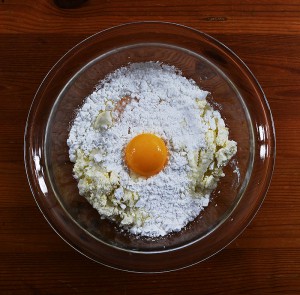 3. Then mix the mixture by a  electric mixer 5-10 minutes (It depends on the type of curd cheese.) to crush all lumps in the curd cheese.
4. Now pour the double cream into another bowl and whip it to a stiff consistency.
5. Put whipped cream to  the bowl with the curd cheese and mix it gently together.
6. Separate half Vanilla cream.  Add a teaspoon of cocoa powder and gently mix it again.
7.Now you have 6 servings of Vanilla cream that you can decorate with some fruit.
Ok. That´s it! You can serve the dessert. So enjoy your afternoon dessert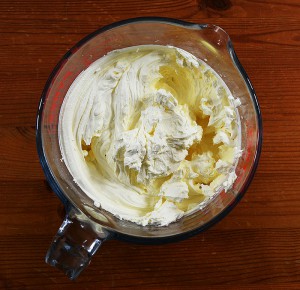 P.S. For those who think the vanilla or cacao flavor is little boring they can may try to add some apricot jam. It does good taste as well (but be carefull  because of the different location =  different taste of jam).
---
---