Fried cheese – (Smažák) Smažený sýr
Every time when I visit the Czech Republic I spare some time and use this opportunity to visit my favorite restaurants to order one of my dream dishes… The large portion of the fried cheese with fries and tartar sauce. it´s delicious.  I think this meal is of the most dishes among Czech people. And most discussed because of its full of fat. Anyway, I guess if you don't eat it every day it is fine then. So if you want to try it at home here is my recipe.
Ingredients:
200g/0.5lb -ish   thick sliced cheese like Gouda, Edam or you can use a moldy cheese (President) cut in half
1/2 cup plain flour
1 cup bread crumbs
2 eggs
4 tablespoon   milk
pinch of salt
veg oil suitable for frying
Preparation time: 10 minutes                                            Servings: 2
Cook time:  15 minutes                                                   Total Time: 25 minutes
Instructions:
Get a bowl preferably with a flat bottom. Put 2 eggs there, add 4 tablespoons of milk, a pinch of salt, take a fork, and beat eggs with other ingredients together.
Prepare the flour and bread crumbs. Now dip cheese into flour to make a layer on it.
Then do the same thing with eggs and finally with the bread crumbs. If the crust is damaged repeat these two steps again.
Turn the frying pan on and heat the veg oil.
When it is ready put cheese into hot oil and fry it for a couple of minutes till the bread crumb layer into gold-soft brown and do the same thing on another side.
Don´t fry the cheese for too long or it will leak. And that is all. Serve immediately until the fried cheese is runny and hot.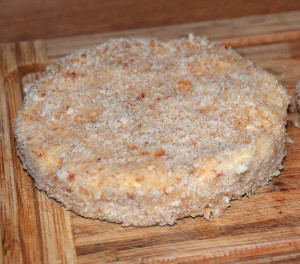 You can serve it with boiled potatoes or  French fries, veg,  mayonnaise, or tartar sauce…
Thank you for reading.
Enjoy your meal.
---
---