Fruit Dumplings (Ovocne kynute knedliky)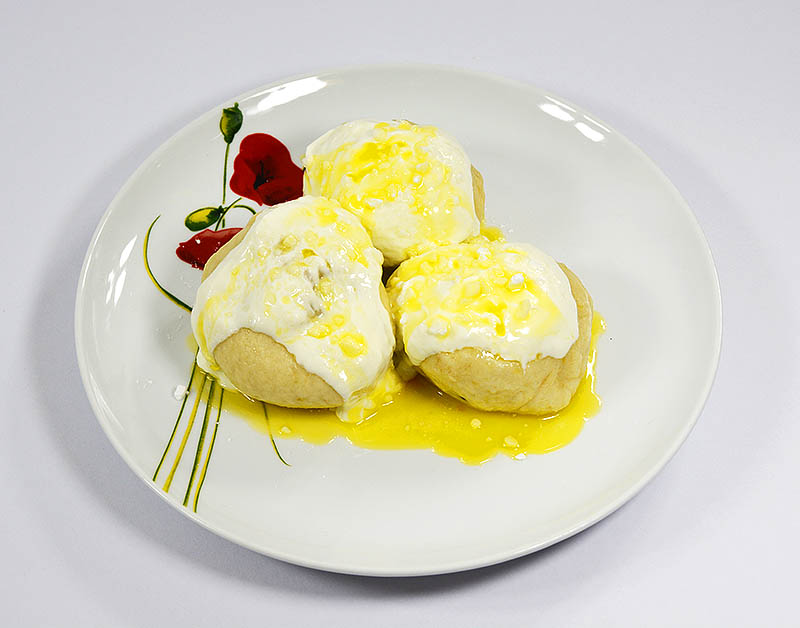 So, are you curious how to make a typical Czech fruit dumplings. Well. This recipe is quite simple and the final product looks good on the plate. Anyway, I guess some people think it is a sweet dessert but we eat it as an ordinary common main meal.
Ingredients:
500g/1.1lb Plain Flour (I prefer Strong white bread flour because of the similar to czech semi-strong white flour)
1 tablespoon sugar
30g/1.1oz fresh yeast
1 egg
300ml+75ml (0.53+0.13pint) milk
0.5 teaspoon salt
30g/1.1oz veg. oil or melted butter
some fresh fruit like blueberries, strawberries, plums and so on. You can use frozen as well.
Ingredients for top decoration:
white yoghurt,curd cheese, icing sugar, melted butter
Preparation time: 30 – 60minutes Servings: 6 (cca. 23 -25 dumplings)
Cook time: 4×10 minutes (depends on the size of the pot) Total Time: around 1.5hour depends on your skills
Instructions:
We have to prepare the fresh yeast. Get a small bowl with 75ml warm (not hot) milk, add crumbled yeast, 1 tablespoon of sugar and 3 – 4 tablespoon of flour. Mix together to make a slurry. Then leave it around 15 minutes to get live.
Prepare a bigger bowl, add flour, egg, salt, melted butter or oil, milk, the leaven yeast and mix together to make a non-sticky dough. When we finished sprinkle the dough with flour lightly and let it rest for about 40 minutes.
Then put the dough on the work desk and roll it out and cut it to small square pieces.
Now take your chosen fruit, put it on middle piece of the dough, wrap it up and let it rest another 20 minutes to make better result. If you use a frozen fruit it better if you will cook it immediately. Fruit must be coated on all sides, no hole or it will ruin your dumpling in during the cooking.
Get a pot (bigger is better) fill it with water, add 1 teaspoon of salt and boil it.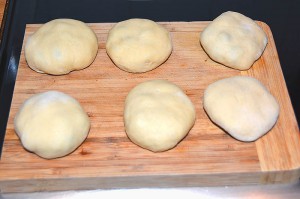 When the water is starting boiling add carefully dumplings to the pot and boil them around 4-5 minutes (it is up to size of dumplings).
After 4 -5 minutes turn them over and boil it another 4 – 5 minutes.
Ok. And this is an important part. When you take them off the pot you have to make a hole in them (by fork or skewer) immediately to let the steam get out of the dumplings. If you will forget dumplings get stiff.
You could rub the finished dumplings with melted butter for better taste.
So that is all. Now we have to put them on a plate a do some decoration… Some people use a curd cheese, icing sugar and melted butter on the top. I prefer white yoghurt instead the curd cheese.
Ok. Thank you for reading and enjoy your fruit dumplings.
---
---