Czech Garlic soup – "Cesnecka"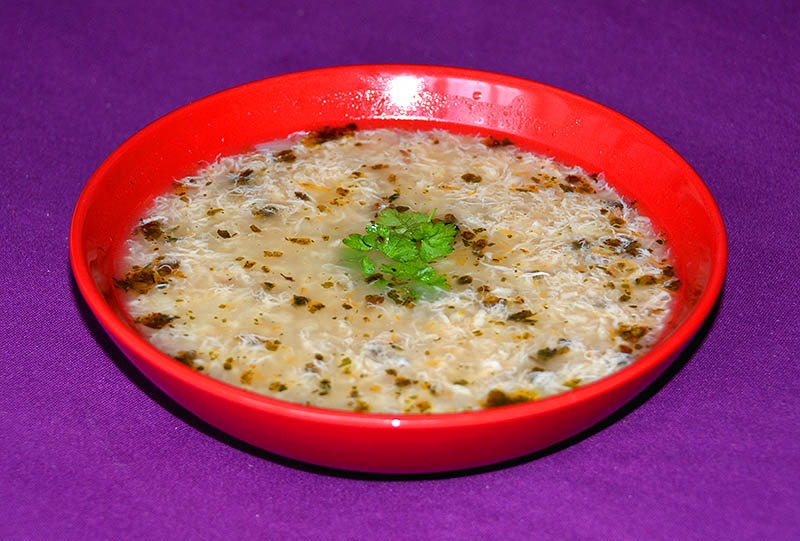 Hello there.
Do you like  garlic? If  your answer is yes, I think you will like this recipe of a Garlic soup as well. It is simple, tasty and healthy soup for cold or rainy days and it is very popular for curing if somebody is having a hangover.
Preparation time: 10 minutes                                            Servings:  4 – 6
Cook time:  around 30 minutes                                         Total Time: 40 minutes
Ingredients:
1.5 litre /2.63 UK pints water
500g /17.6oz potatoes
2 chicken stock cube (or some chicken sauce leftover – try to separate the fat) for a better taste
2 large onions ( cca. 230g/1/2lb)
1 garlic head (cca. 60g/2oz)
3 tablespoon veg. oil
1 tablespoon plain flour
3 eggs
4 tablespoon milk
1/2 teaspoon milled black pepper
a dash of salt (as needed)
1 teaspoon marjoram
1/2 teaspoon whole caraway
You can add some chopped celery for better taste, if you like.
fresh parsley or chive to sprinkle
Instructions:
First, prepare eggs… Take a small bowl, put your  eggs there, add 4 tablespoons of milk,  salt,  ground black pepper, take a fork and beat eggs with other ingredients together.
Get a middle size pot, add water, chopped potatoes, cumin, a chicken cube  or leftover chicken sauce and return water into boil. Then cook until potatoes turn soft. It will take around 20 – 25 minutes, which gives you enough time to chop onions softly and crush the garlic. Then take a saucepan, add veg. oil, chopped onions and fry it until soft golden brown, which will take around 10 minutes,  then add the crushed garlic, sprinkle with a tablespoon of plain flour and fry it for another 3 – 5 minutes. Then add  onions with garlic into a boiling water with potatoes. Now take the bowl with beaten eggs  and  slowly add to the soup while stir. Add the marjoram. Boil the garlic soup for another 3 minutes, check the taste, if it needs anything and we are done. Serve it hot. You can sprinkle your garlic soup with some freshly chopped parsley or chive. That´s it.
So. Bon appetit!
---
---