Tomato stew with peppers – Lečo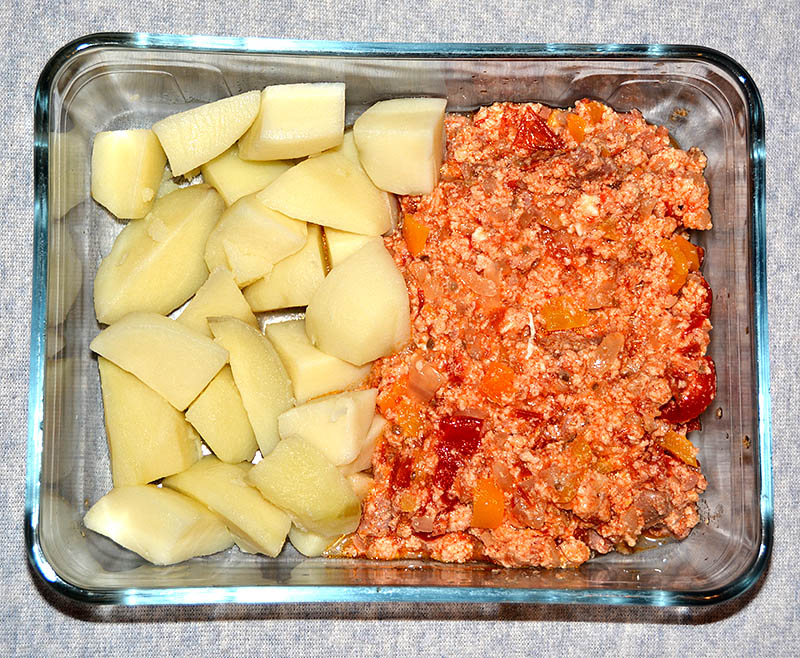 Hello there. Have you been busy recently? I have a tip for you how to make a fast meal or supper for the afternoon (not for breakfast as many people think). The tomato stew is a really simple recipe. You need just some vegetables – like fresh tomatoes and peppers, couple of eggs and around 50 minutes of your time. I heard that "Leco" is originally coming from Hungary but it has became popular in Czech Republic where people embraced it. So the Czech recipe is quite different from the original. Ok… Let´s see what we are going to need and how to do it…
Preparation time: 10 minutes Servings: 4 – 6
Cook time: around 40 minutes Total Time: 50 minutes
Ingredients:
2 (230g / 0.5lb) medium size onions
4 (460g / 1lb) peppers (can be any colour)
5 (670g / 1.5lb) medium tomatoes
5 tablespoon veg. oil
220g / 0.5lb bacon or sausage (but if you are vegan it is not necessary)
4 – 5 eggs
5 tablespoon milk
a dash (up to your taste) salt
a dash (up to your taste) ground black pepper
Instructions:
For today use a large saucepan.
Start with adding of 5 tablespoons of the veg. oil into the saucepan. Peel the onions, chop them softly and fry them. Done with the onions? Good. Now do the same with the peppers and tomatoes (they don´t need to be peeled because it´s skin is healthy… full of vitamins). Last to be added is finely sliced hard salami. Do not forget to mix it well so that we do not burn anything and cook slowly over low heat (stew) for around 30 minutes. I take off the lid for the last 10 – 15 minutes to evaporate the excess water. Meanwhile, prepare eggs… Take a small bowl put your eggs there, add 5 tablespoons of milk, a dash of salt, ground black pepper, take a fork and beat eggs with other ingredients together. After 30 minutes cooking our tomato stew is ready for the last stage. Add eggs, mix it together and cook for another 5 minutes till they get done. Check the taste and add more salt or black pepper if required.
Ok. And that´s it. Congratulations for your first Czech tomato stew made. You can serve it hot (I prefer it hot) or cold with some bread (I think the rye-wheat is best.) or some cooked potatoes and veg.
Enjoy your meal.
---
---