Homemade pizza the simply way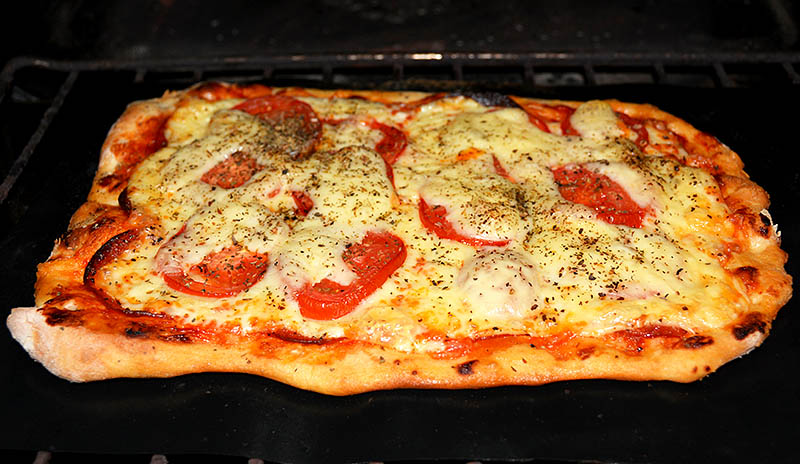 Hello there.I know the pizza is not originally Czech food but I really love pizza since I was a small child. The problem was when I made it home it wasn´t so great as from pizzeria until recently when I met an old friend and he showed me a few tricks to make it simple and tasteful.
Ok, and today I want to show it to you.
Preparation time: Couple days. Servings: 2 medium size of pizza
Cook time: 7 – 12 minutes Total Time: Hard to tell.
Ingredients:
Base on pizza:
450g/1lb flour (I have been using white strong bread flour)
1 teaspoon salt
1 teaspoon dry yeast for bread making and hand baking
3 tablespoon olive oil (or veg. oil if somebody doesn´t like the olive oil)
225g(ml) / 1/2lb water
To cover pizza base:
spicy salami, hard meat sausages, tomatoes, grated cheese
some olives if you like them, herbs like oregano, basil, milled black pepper and so on.
Instructions:
So. Are you ready to start? I guess you are. But if you expect to eat that pizza even today you are wrong and you have to start a day before at least. It is because we are making a pizza and not some kind of cake or bread when we need to dough rised.
1.day Preparation of a dough
To make the dough, sift the flour into a bowl, add salt, dry yeast and mix it all well together.
Now add the oil, sprinkle over the water and mix it to a firm, soft but non-sticky dough. When you finished It should look like on the picture.
Done? OK. Leave it in the bowl, sprinkle lightly with flour, cover it with a cloth, put in the fridge and keep it ripen there for 24 hours at least (I do two days usually.).
Finished? You have done a great job.
2.day Baking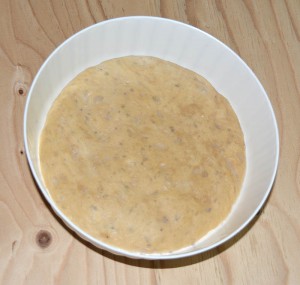 After a day or two days of fasting it is the time to finally have our desired result. It is the time to preheat our oven for 30 minutes at least to get a right temperature and it will give us plenty time to prepare pizza base. The best temperature is about 240°C – 260°C (464°F – 490 °F).
Then take the dough from the fridge. Put it on the desk and knead it for couple minutes to make a nice shiny ball. If the dough still little sticky we could sprinkled softly both sides with some flour so it doesn´t stick on the table or out tools. Cut it in half and roll it out to the circle (or into different desired shape). The thinner the better. Then fix the shape and the based pizza is ready for its last stage.
We can decorate our pizza to taste as we like. I think the most popular combination is to use some spicy salami (or hard meat sausage), tomatoes, grated cheese (actually I use sliced cheese cut it in the strings because of the better price) and black olives (but be careful many people hate olives), sprinkled with some herbs like basil, oregano, black pepper and so on. Then put the pizza on the greaseproof paper and we are ready to bake.
So. It is time to insert the pizza to the preheated oven and bake it around 7 – 12 minutes (depends on a type of the oven) til the edge turns golden brown.
And that´s it. Enjoy your meal.
---
---